April showers are here and rain can undoubtedly be a major nuisance for outdoor workplaces. Is your team prepared? Equipping your team with protective rainwear can dramatically boost employee productivity, especially if you're in an industry that consistently works outdoors. OSHA does not mandate employers to pay for ordinary clothing such as rain coats, but it is highly recommended for employee safety to ensure that projects will be completed on schedule.
Read on to learn the importance of adequate protection from the rain, as well as what qualities to look for in rainwear to ensure your team is properly protected from the weather.
RAIN-RESISTANT COVERAGE
Employees should be equipped with rain-resistant gear from head-to-toe, including a hood or hat, gloves, and boots. Having an overlap between the pants and coat (or a one-piece body suit) is recommended for labor-intensive jobs where water is more likely to seep through the gaps. Often, rainwear is equipped with snaps, zippers, elastic bands or detachable components to ensure water doesn't slip through the cracks. Boots and leggings should also have a similar overlap.
HIGH VISIBILITY
Considering how rainstorms can dramatically reduce visibility, it's important to wear clothing that's highly visible in order to minimize the chance of an accident. This is especially true for industries that work with heavy machinery, at high altitudes, or with potential health hazards.
WATERPROOF, WINDPROOF, AND BREATHABLE
Water resistance is one thing, but protective rainwear should be "waterproof" to ensure it can stand up to prolonged precipitation. Gear that is "water-resistant" can typically only handle moderate rain for a short period of time, so look out for these terms when shopping.
Rainstorms can also bring about heavy winds, so rainwear should also be windproof and offer protection from reasonably high wind speeds.
Another factor to consider is breathability. No one wants to work long hours in a wearable sauna, so look for qualities such as "breathable" or "ventilated" when searching for rainwear. This type of gear allows sweat vapor to exit the rainwear's shell, allowing the body to remain at a reasonable temperature.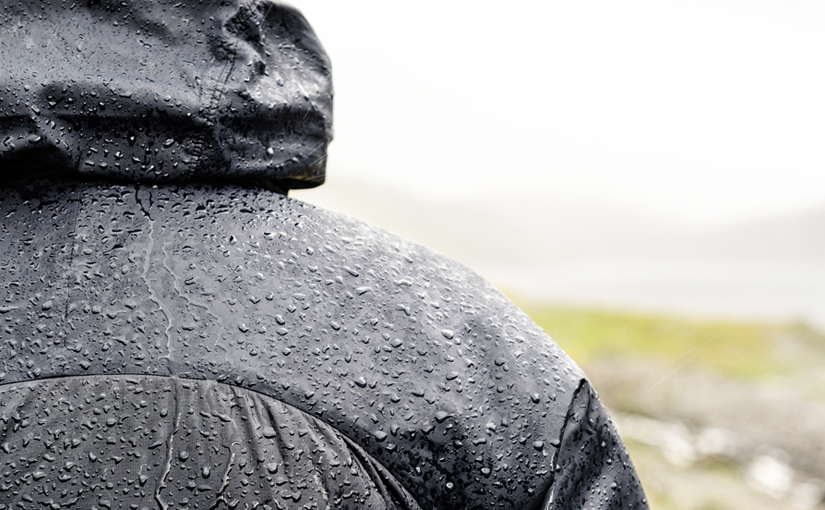 REGULATIONS AND RECOMMENDATIONS
The Occupational Safety and Health Administration (OSHA), does not set specific guidelines for working in the rain. However, there are many rain-related state laws and guidelines for specific industries (such as construction or logging), and storms accompanied by lightning or heavy wind can halt operations if workers are not adequately protected.
While there may not be federal guidelines requiring employers to provide rainwear, it can be downright dangerous if employees are not properly equipped for inclement weather. When it comes to productivity, it's unlikely that employees will be working at peak performance if they're shivering in cold, damp clothes. Furthermore, the adverse health effects of working long hours in the rain can be problematic, both for employees and safety regulators. Especially in the early spring or late fall, prolonged exposure to rain and chilly temperatures can cause cold stress, frostbite, hypothermia, trench foot and other ailments.
CONTACT US STANDARD PRODUCTS FOR ALL RAIN GEAR NEEDS
For affordable rainwear that offers all of the qualities listed above, check out the US Standard Products catalog. We offer more than a dozen different lines of durable, protective rainwear for all sorts of different applications, all available in an array of sizes and colors.
Whether you're in need of full rain-resistant suits or just individual articles of clothing for modest projects, contact us for high-quality, cost-effective rainwear that is sure to protect your team from whatever Mother Nature has in store.
To stay up-to-date on the latest in workplace safety news and trends, follow US Standard Products on social media: LinkedIn | Twitter | Instagram | Facebook