When it comes to working professionals, there is no one-size-fits-all glove, especially for those working with consumables, hazardous chemicals or bodily fluids.
If you're in need of safe, effective gloves for workers in the food, beverage, hospitality, medical or life sciences industries, we're breaking down what to look for in gloves below. Between resistance to chemicals and hazardous substances, durability, puncture-resistance, reusability and more, there are a wide range of qualities to consider.
If you're looking for glove advice for other industries, check out our other articles on glove safety. You can find our article on gloves for drivers, welders and landscaping professionals here, or our glove guide for manual laborers and maintenance professionals here.
Neoprene
Neoprene gloves, also known as chloroprene, offer great comfort and have a wide variety of uses and applications. These gloves offer resistance to toxic chemicals, corrosive materials and potentially infectious substances or bodily fluids.
The strong chemical resistance, durability and extended comfort offered by neoprene gloves make them ideal for heavy duty cleaning or janitorial work. Additionally, neoprene gloves are a strong choice for science professionals working in laboratories or research centers.
While neoprene offers resistance to bodily fluids and infectious materials, most neoprene gloves are not disposable. Because of this, they're not ideal for many medical applications where new gloves should be used with each patient.
Additionally, all USSP Neoprene gloves feature brushed interior lining to offer ample comfort for extended periods of time. While this offers comfort, the brush lining of neoprene gloves is not recommended for working with food or beverages.
Nitrile
Nitrile gloves are offered in both disposable and reusable versions and can be used in a wide range of applications. Nitrile gloves offer strong resistance to oils and acids and are primarily used by medical professionals for examinations or by scientists in laboratory or research center environments.
While Nitrile offers ample strength, puncture resistance and durability, one drawback to Nitrile gloves is limited flexibility. Because of this, they're not recommended for professionals that need to be precise or dexterous with their hand movements.
While reusable gloves are not recommended for medical professionals, USSP offers disposable Nitrile gloves – one of the best options for surgeons and medical professionals. USSP also sells disposable Nitrile gloves specifically designed for industrial and food service environments.
Vinyl/Polyethylene
Vinyl and Polyethylene gloves are some of the most economical gloves available and are ideal for light-duty tasks that demand frequent glove changes. These gloves are typically offered in bulk and are available in both powdered and powder-free versions.
Vinyl gloves are a great option for food service professionals that don't use heavy equipment or hazardous substances, and they are also a great option for light cleaning and janitorial work.
The limited resistance and protection of vinyl/polyethylene gloves make them a poor option for professionals that are exposed to chemicals, hazardous substances or potentially infectious fluids.
PVC
PVC provides strong resistance against acids, bases, caustics and alcohol, though gloves made of this material are susceptible to punctures and cuts. Because of this, these gloves are best suited for laboratory or medical settings, and are not recommended for professionals working with sharp tools or with heavy machinery.
PVC is one of the most effective materials for working with water and detergents, so it is often the first choice for professionals in cleaning roles or in janitorial services.
Latex
Latex gloves are great for working with biological and water-based materials, though they offer little protection to chemicals or organic solvents. They are best suited for light cleaning applications, and are some of the most affordable gloves available.
Latex gloves are one of the most common choices for surgeons, doctors and medical professionals due to their resistance to biological materials, their low price point and the fact that they are sold in bulk and are disposable.
However, it's important to note that Latex allergies are quite common, so these gloves may trigger allergic reactions or rashes for some. Before equipping your staff with any latex products, be sure that your team is allergy-free.
Finding the Perfect Gloves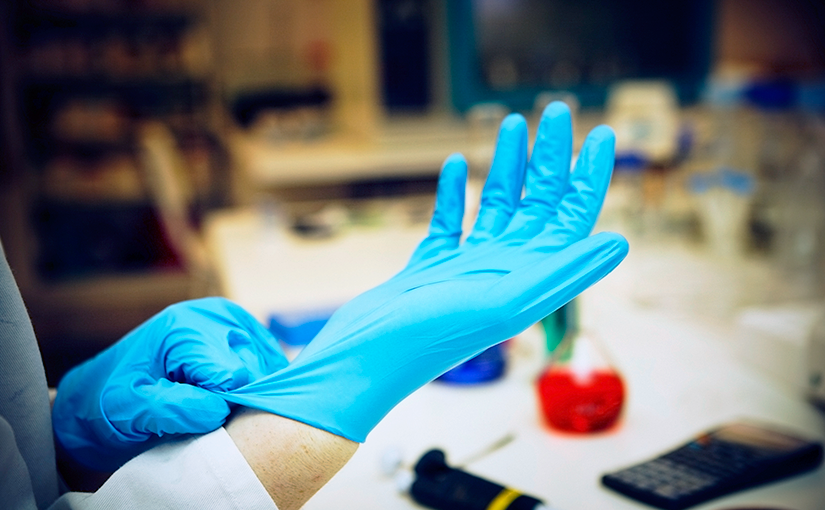 While the glove materials listed above each have their strengths and weaknesses, it's important to provide your workers with gloves that can stand up to the unique challenges of each job and work environment. If you're still unsure of the best glove material for your team, our safety experts are here to help. Give us a call at 844-877-1700, or check out our catalog for an in-depth look at the wide variety of gloves we offer.